Caravan & Camping Park in Spiddal Galway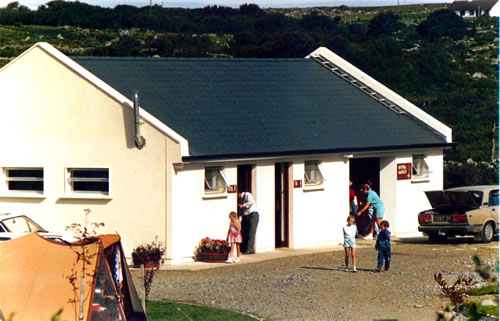 Our caravan and camping park is the nearest park to the Aran Islands, on the banks of the Boluisce River, famous for its sea trout. We are ideally located 20 minutes west of Galway city on the coast road, R336, and situated in Connemara Gaeltacht, along the Wild Atlantic Way (www.wildatlanticway.com).
We are a quiet family park with 18 hardstands and plenty of camping areas. We are registered with Fáilte Ireland, National Tourism Development Authority (http://www.failteireland.ie/) .
Amenities
Amenities nearby include Irish colleges, scenic walks, beaches, water sports, golf, hotels, restaurants, craft village and Irish traditional music/pubs. See our Local Attractions for more information.
Facilities
Facilities' on-site include toilets, free hot showers, fully-serviced hard-standing, laundry, waste and refuse disposal, kitchen and cooking facility, Island Ferries ticket Agent (for Aran Islands).All electrical points have a minimum of 16 amps.

Mobile home rental: We rent mobile hoems on a weekly basis. Please contact us for availiblty and rates.
Opening Times
We are open at Easter through to October. In winter we open at request in advance.

Dogs are allowed on the park under supervision. We cater for groups prior to arrangement.
Click here to Contact Us